Domaine de la Pepiere, Muscadet 2007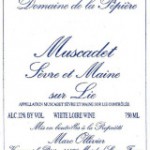 Saturday night, Kris and I had two very good friends over for dinner. The kind of dinner party I enjoy, one does the cooking and one brings the vin. While I served red snapper, Jared and Stephanie brought a delicious Muscadet. This white Loire wine was the perfect combination of crisp and fruity, and perfectly balanced the spicy mustard sauce of the fish.
The wine was purchased at Uncork It! in Chicago. While I have not yet stopped by this establishment, Jared and Stephanie praised the staff as friendly, unpretentious and extremely helpful. From the gem that they brought for dinner, they weren't led astray! You can pick up this bottle for roughly $15.