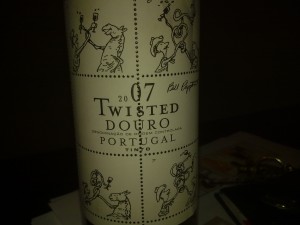 We had the good fortune to win a raffle at a neighborhood event for this fine specimen. Provided by the Cork Dork of South Minneapolis, (no website?) this may be the first wine I have ever tasted from Portugal.
The Twisted Douro was an excellent find, not too tannic, nor overly fruity, it was very drinkable, and went wonderfully with the steak and arugula salad that we had for dinner.
I went to the local liquor store thinking I might find some other Portugese wines to taste, but alas, no luck.